Hussaini Adamu Federal Polytechnic notice on Continuation of registration
This is to draw the attention of those that have not completed their registration to hasten up and do so, as no student would be allowed to sit for any exams without full registration.
(A) Returning Students
Note the steps in registration process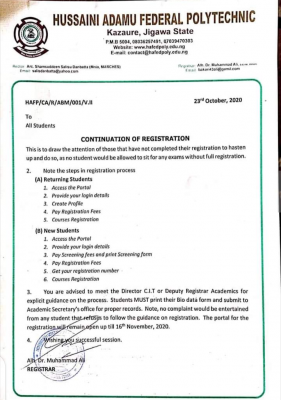 1. Access the Portal
2. Provide your login detoils
3. Creote Profile
4. Pay Registration Fees
5. Courses Registration
(B) New Students
1.Access the Portal
2. Provide your login details
3. Pay Screening fees and print Screening form
4. Pay Regstration Fees
5. Get your registration number
6. Courses Registration
3. You are advised to meet the Director C.l.T or Deputy Registrar Academics for explicit guidance on the process. Students MUST print their Bio datá form and submit to Academic Secretary's office for proper records. Note, no complaint would be entertained from any student that.refuses to follow the guidance on registration. The portal for the registration.willremain.open up till 16h November, 2020.
4. Wishing sugcesful session.
AlA Dr. Muhammad A
Registra