AD-COHST gets approval to run ND/HND courses in four different health-related disciplines
Aminu Dabo College of Health Sciences and Technology (AD-COHST) Kano has received full accreditation from the National Board for Technical Education (NBTE) to run ND and HND in four different health programs with effect from 2019/2020 academic session.
The four Programs include National Diploma and Higher National Diploma (ND/HND) in Health Information Management, Environmental Health Technology, Community Health and Dental Therapy.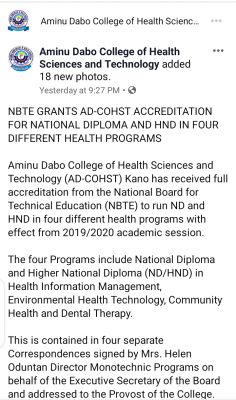 This is contained in four separate Correspondences signed by Mrs. Helen Oduntan Director Monotechnic Programs on behalf of the Executive Secretary of the Board and addressed to the Provost of the College.
The letters stated that the approval was granted following the recent Board Accreditation exercise where the Team found the College met the requirements to commence the relevant programs in the Institution.
Also in one of the letters, the Board intimated that, it had earlier notified the Director General National Youth Service Corps (NYSC) and the Registrar Joint Admission and Matriculations Board (JAMB) on the update of Programs and the need to include the students of the programs in their scheme and Brochure.
The NBTE Executive Secretary congratulated the Proprietor and the entire Management of the College for achieving the successes, expressing hope that the set quality and standard will be maintained at all times.